American or English type?

We are so lucky to share our daily life with wonderful English setters coming from USA and UK breeders. Here you can read our opinion about the main differences between American and English type English setters based on our own experiences.

Appearance: In appearance they can be different, not only headwise but also expression, coloring, coat quality, angulations, length of tail, proportions, size, movement etc.... But charachterwise they are very similar. I think at the end it is just the question of taste if somebody decides for an American or for an "English" English setter.

Instincts: We love to go for hunting and my setters love it and do a great work, doesn't matter if they have UK or US origin. Here is a photo of the hunting day where we took part with 4 experienced hunting dogs: two of them are from pure UK lines and two of them are from pure US lines. They all did a fantastic job there! I was so proud of them!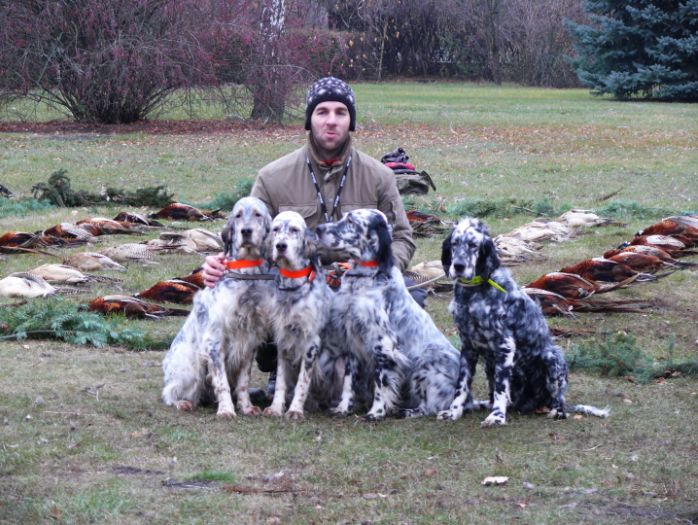 ssdfdgs
Please note field trialing is very different from hunting. If you want to take part successfully in field trial competitions with your English setter, we advise to choose a special field trial line English setter.

Health: There are UK lines where you can find complete dentition, but we also heard about missing teeth at Americans. A big advantage is for Americans they are health tested for many many decades, but it is great to see that also in the UK more and more breeders started to do more and more health tests. E.g. Kennel Tattersett where my UK English setters came from do BAER test for more than 13 years, their ES are of course BVA HD scored as well. Therefore I do not see big difference in their health profiles as my UK line setters have great hips, correct bite and they are BAER normal thanks to their breeder.

Of course we also met UK line Engish setters with very weak health profile, where the whole line was charged by very bad hips and lots of missing teeth (more than 10) and terrible bite problems and already degeneration in their vertebra or kidney problems etc. But I try to avoid those line in my breeding plans. I think the rumours and very bad health profile of some UK line English setters are caused by some "breeders" due to their very close inbreeding regardless of the health problems in their lines, this is what we can see here on the continent.
As far as I know many working, FT type English setters are not health tested at all, this makes me also worries.